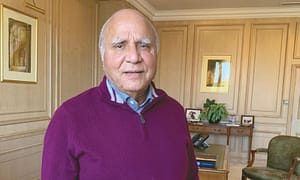 "Sometimes in my dreams — the happy ones, not nightmares — I am back in Bradford, driving a bus and feeling content with life," Sir Anwar Pervez said, in a conversation with Dawn at his group's sprawling headquarters in the North West London borough of Brent.
Even several decades after his bus-driving days in the industrial city of Bradford, Sir Anwar, the Pakistani-origin British billionaire who founded the Bestway Group, still says that his earliest memories of life in the United Kingdom are his fondest.
"I had nothing in Pakistan," he said, recalling the circumstances when he left home at the age of 21. "I did my matriculation, but my parents didn't have money to send me to university. I used to work as a telephone operator for Rs96 a month and most of my salary would be spent on anti-malaria medication. It was a huge problem then."
He shared that once when a journalist asked him how his life would have turned out had he stayed in Pakistan, Sir Anwar responded by saying 'I would have died'.
Bestway billionaire sees '99pc hard work and honesty' behind his success
After working as a bus conductor and driver for about five years, Sir Anwar said he started to save money to bring his relatives to England. One by one, his family members arrived here in the early 60s, and their incomes together made it possible to dream of a business. In 1963, he opened a retail store in Earl's Court, a specialist store which sold masala and halal meat.
"I was making about Rs600 a week but I was only catering to a specialist clientele. When I went to the high street and saw the other shops, I realised that what I was doing was only catering to one per cent of the market."
This marked the beginning of the entrepreneur's journey in wholesale. He delved into the business of the cash and carry stores that today, under the group's wholesale banner, are worth billions of pounds. More retail units followed and by the early 1970s he had opened 10 general food stores. The company moved into wholesale in 1976 when its first cash and carry warehouse was established in Acton.
Sir Anwar credits his success to "99 per cent hard work and honesty".
"One per cent is due to luck. How else would a man like me, from a village, reach where I am today? I was lucky to have come here… to have met good people."
The company enjoys a reported 18pc market share in the UK wholesale sector, employing 4,500 people. Beyond wholesale — it operates business in cement, banking and pharmacy.
As the conversation turned back to nightmares, Sir Anwar said: "Honestly, the [former] chief justice and press appear in my nightmares."
He referred to retired CJP Saqib Nisar who, through suo motu notices, hit out at cement factories, including the one owned by Sir Anwar's group.
The widely reported 2018 Katas Raj case was hinged on the improper use of groundwater by cement factories, whom the judge had said were "destroying the ecosystem". Through his characteristic harsh observations, Justice Nisar had criticised Bestway in particular. Eventually, the case was closed when the factories were ordered to arrange their own water supply. Additionally, United Bank Limited, of which the group is a majority owner, was also dragged to court when the then CJP had taken notice of banks. Sir Anwar says the case is pending before the Supreme Court and has not seen much movement since the judge retired.
"He [Saqib Nisar] has publicly apologised to me since then. But the mess that he put on us has caused huge losses. We were targeted and it was unfair."
Sir Anwar hints at a high-level meeting he had during those days with an influential and powerful personality in Pakistan. The meeting was held so Sir Anwar could convey his displeasure at being "unfairly targeted" by the ex-CJP. "In Pakistan if someone's stomach is hurting, there is only one doctor to go to. I did the same, but nothing really came of it. I was told that my message would be conveyed but the case is still pending in court."
Sir Anwar said that for a long time he thought his message had not been conveyed to the judge, but then he realised it must have been delivered when Justice Nisar saw him at an event and hinted that he know Sir Anwar had complained about him. Still, the businessman said he got no relief.
He said that suo motu notices, granted to Supreme Court justices under Article 184 (3), should be used sparingly in Pakistan and that Prime Minister Imran Khan should focus on strengthening institutions.
"Make a system that doesn't depend on a personality," he said, adding that although there may be interference, systems must be created that withstand it. He said he has faith in Mr Khan's "good intentions" to steer the country to prosperity.
"However, in an orchestra there should be one conductor. If they are more than one then it's not music, it's chaos."
When asked what Pakistan can do to attract investment, Sir Anwar said: "Business owners must pay their taxes and stop paying bribes."
He recalled how surprised he felt when a prominent Pakistani businessman once bragged to him about paying bribes. "I told him that in the UK, if you say you paid a bribe you would be arrested. Those giving bribes should stop creating temptations for others."